RawHTML:
Do you want to put "Jamaica" in the Christmas holiday gift giving this year? Impress your family and friends with the hand picked Jamaican themed gifts. We've included some of the best Jamaican gifts – spanning all budgets – to make this year's gift buying easy. Grab your list, check it twice, and visit these online stores.
HOW We Celebrate Christmas – HOW We Celebrate Christmas is has all your favorite Christmas songs with a Reggae/Caribbean flava. It is the perfect background music for that Christmas dinner or just to get you in the Christmas season.
Brown Girl" Spanish Jar – This handmade jar is perfect for desk, coffee table or night table. It is made by one of Jamaicans Wassi Art potters. They are unique and just a few were created. There's no guarantee you see too many of these jars so it is the perfect "one of a kind" gift for someone.
Anancy and the Christmas "Bimmer" – AAcclaimed Jamaican writer Joanne Simpson's book, Anancy and the Christmas Bimmer, is the perfect gift for children ages 3 – 9. Not only is it fun but they lean about Jamaican culture. Anancy was a naughty little spider man from Jamaica who thought he was so 'cool' playing tricks on his neighbours for fun. He was soon to learn that making people unhappy was a bad thing, when a fat guy in a red suit accidentally sat on him early one Christmas morning.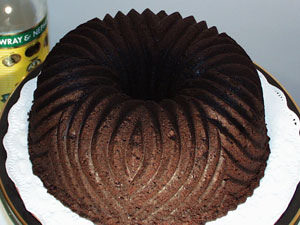 Jamaican Fruit Cake – Jamaican Fruit Cake is a rich fruit cake, or christmas rum cake, made the traditional Jamaican way. Fruits soaked all year round with Jamaican white rum, brandy and red label wine, along with special spices and the cake slow baked to perfection. Real black Jamaican fruitcake from Jamaica. Perfect for all special ocassions especially Christmas and Weddings
Tortuga Chocolate Rum Cake – The Chocolate flavored Tortuga Rum Cake is a perfect complement to a cup of coffee or tea this Christmas. It is made without preservatives and is made from the finest ingredients, including Tortuga Gold Rum. Each cake is vacuum packed and has a shelf life of six months. If they are frozen or refrigerated, these cakes have a much longer shelf life.
Walkerswood Traditional Jamaican Jerk Seasoning – Here is the perfect gift for the "chef". Jerk seasoning is Jamaica biggest contribution to the world of exotic foods and cooking. Give a gift that is sure to "spice up life".
Delicious Jamaica: Vegetarian Cuisine – Here is the perfect gift to the vegetarian who wants some "Jamaican" spice in their life. Here is wonderful array of tempting dishes as lively as the people of Jamaica themselves. Includes spicy Jamaican-style soups and stews with an African beat, English dishes with mango and tamarind, island influences in Asian dishes, and other delicious, traditional Jamaican treats
Foundation Ska The Skatalites – This CD is perfect for the Jamaican music history fan. It contains 32 hits from Jamaica's early ska days. It includes songs from Don Drummond, Roland Alphonso, the late Tommy McCook, and the other Skatalites as they were just starting out in'64-'65 tenure at Coxsonne Dodd's legendary Studio One.
Jamaica Steppin Out T-Shirt – Nothing says Jamaica more than a t-shirt. It is the perfect gift for someone who loved to wear their "statements" Jamaican style.
Simple Jamaican Cooking Cookbook – Gift the gift of authentic Jamaican dishes. If you have used any of the recipes on the Jamaicans.com website chances are you have used one by Winsome. She has finally written her first book, "Simple Jamaican Cooking". It contains over 130 recipes including hard dough bread, jerk chicken, beef patties and many traditional Christmas dishes.