Kenry Peart, a Master Sergeant in the United States Air Force's 633rd Communications Squadron, was raised by his great aunt Hilda Blake in Jamaica until he was ten years old. Blake raised Peart's mother and encouraged her to follow her dreams and attend culinary school in Kingston, promising to take care of her children until she "could get on her feet."
As a child in Jamaica, Peart and his family worked as farmers, growing bananas, pimentos, and oranges. They raised goats and cattle to sell and did without running water, indoor plumbing, and sometimes electricity. They took their laundry to a local river to wash it, used an outhouse, and took baths outside. He remembers walking barefoot to collect firewood to fuel the wood-burning cook stove where they prepared their meals. While everyone contributed, his great aunt was the main provider.
Peart understood that his mother was working as hard as she could to provide a better life for her children when she moved to the US after she finished school. She would send clothes and toys at Christmas, giving "her last penny to ensure we were taken care of," he remembered. In America, she worked two jobs and earned enough money to bring her children to join her when Peart was 10. He and his five siblings lived outside of Washington DC with his mother and stepfather; her mother worked multiple jobs to support the family.
Peart found the language barrier the hardest thing to overcome when he came to the US, and he had a hard time adapting to a new social life. As he grew older, things became easier when he found his place through school athletics. He participated in football, cross-country, track, and basketball, making friends and joining "the inner circles" because he was an athlete. Once he became old enough to work, however, he had to leave sports, the one thing that made school bearable, to help his mother support the family.
Peart met his first wife, Kandice Dickens, in high school, and once they were married, he started work as a mechanic, using what he had learned in vocational school automotive certification classes. A year into their marriage, Dickens joined the US Air Force. Peart had always wanted to join the Air Force himself, but was afraid to make the move away from a steady job that offered good pay. He learned about the military lifestyle as he traveled with his wife and became even more interested in joining. Once the couple was expecting their first child, Peart examined where he was in his life and finally made the decision to join the Air Force in 1999. His first enlistment was as a dental technician, but he needed to become an American citizen before he could reenlist and advance his military career.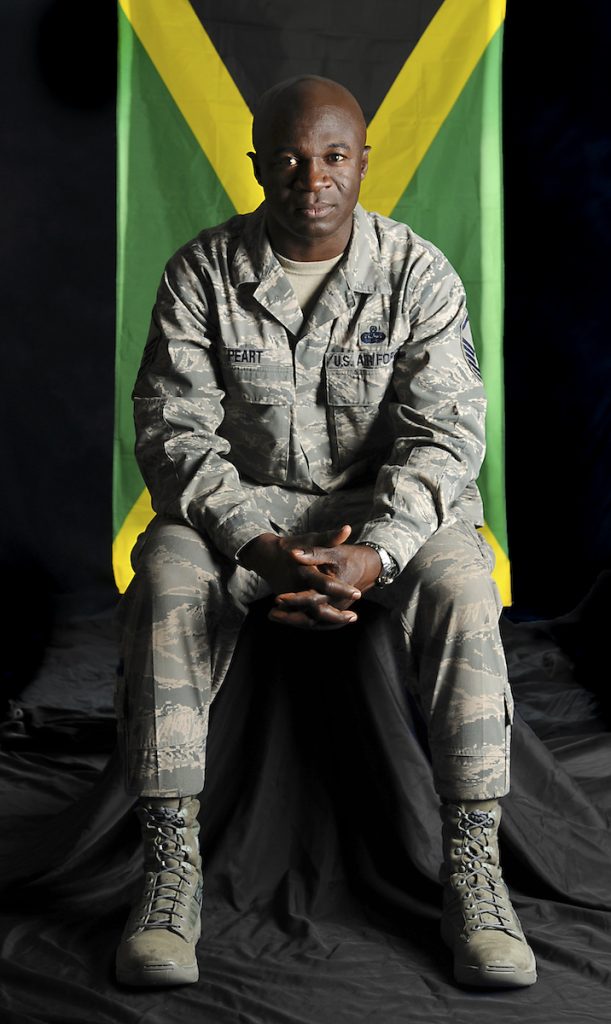 After divorcing his first wife and gaining custody of his daughter, he met and married "his soul-mate" Latisha Brown, with whom he has a son. While his children are growing up in the US with all the things he lacked in his childhood, Peart still remembers the conditions of his youth. He supports his great aunt as much as he can and tries to visit her in Jamaica every two years. She still lives in the same house where he grew up, but he has made many improvements to it, including indoor plumbing, a solar water heater, and a washing machine. He believes it also makes him better able to mentor and care for the Airmen he works with now. He values the journey he has taken and knows he will be able to pass on the lessons he learned to his own children so they will value what they have.
Photo and Information Source:  Airman st Class Victoria H. Taylor, Military