This week the 6th biennial Jamaica Diaspora Conference was held in Montego Bay. We caught up with Lisa-Ann OGilvie Project Manager for the 2015 Jamaica Diaspora Conference.
How many hours sleep have you gotten each night this week?
About 3 hours.
What was the biggest challenge before the conference started?
The logistics of planning an event from Kingston with the venue and main activities happening in Montego Bay.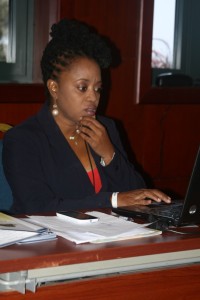 What has been the biggest challenge during the conference?
The management of the session times during the conference. It is a gathering of Jamaicans who has a lot of important, interesting and relevant things to say and contributions to make.  This has resulted at times in persons going over their allotted time. We have managed to catch up by the end of each day.
What is the weirdest request you have received from a Jamaica Diaspora Conference delegate?
A few have asked if we will provide courtesy ground transportation in their country.
After the Jamaica Diaspora Conference is done what will you do to relax?
I am planning to travel oversees and curl up with some good books?
If you wanted to impress someone visiting Kingston where would you take them?
First, I would take them to Irish Town, and then to explore some of the gems in downtown Kingston.
Thanks for your time and all the best with the rest of the Jamaica Diaspora Conference.
Thank You