On March 16th, 2019 the National Stadium in Jamaica's capital city of Kingston was a place like no other, as it was filled to the brim by a sea of humanity that came to witness the return of reggae superstar, Buju Banton, and the kick-off his Long Walk To Freedom Tour.   In the aftermath, Buju's magnificent comeback concert in his native homeland is being hailed as legendary.
Born Mark Myrie in the gritty Kingston community of Salt Lane, Buju Banton rose to prominence in the 1990s with a slew of timeless hits that garnered him the moniker, 'Mr. Mention', which was also the title of one of his most successful albums.  In fact, Buju's 'Mr. Mention' album eclipsed the record for # 1 singles in Jamaica, previously held by the King of Reggae, Bob Marley.  Buju's career then continued to steadily progress to the point where he was widely regarded as one of the most significant and influential reggae artists in the Jamaican music industry as well worldwide.    And during that time, Buju of course collaborated with many top notch artists in the reggae, dancehall, and hip hop genres.   From a reggae music industry vantage point, legends like Beres Hammond, Wayne Wonder, Cocoa Tea and the late Garnett Silk come to mind in terms of the classic hits they recorded with Banton .  However, in 2011 Buju Banton's career sank to a nadir upon being convicted on drug-related charges in the United States for which he was incarcerated until December 2018, whereupon he returned home to Jamaica immediately after his release.
As it happened, Buju's much anticipated concert was an epic one that will certainly be cemented in the annals of Jamaican history.    What's more, the massive event was star-studded in terms of not only the line-up of artists that performed alongside Buju during the show, but also backstage where an A-list of his supporters—including celebrities, reggae and dancehall legends, icons, and Jamaican government officials—were on hand to revel in the excitement surrounding such a once in a lifetime reggae music concert in its original birthplace.  As the images below go to show, it  was certainly a breathtaking sight backstage as numerous celebrities were spotted casually milling about amid the musical extravaganza surrounding Buju Banton's ceremonious return to the concert stage in Jamaica  in a grand display of pomp and circumstance.  And fittingly, a good way to describe Buju Banton's triumphant stage performance is to say that he 'Walked like a Champion'.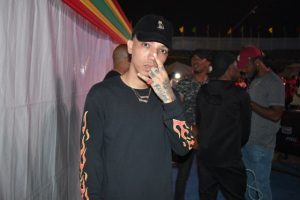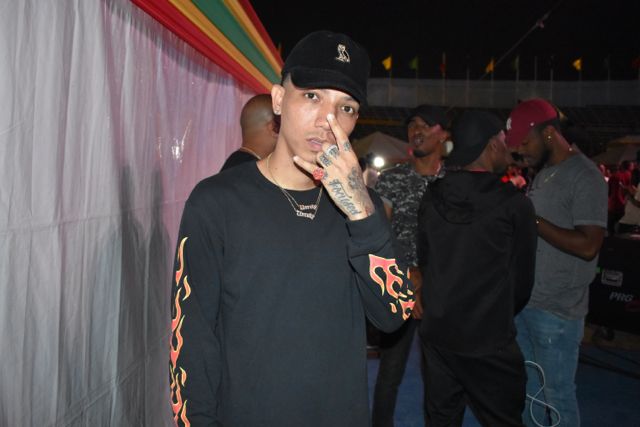 Selector from Jamaica's popular Chromatic Sound – a five member dancehall soundsystem crew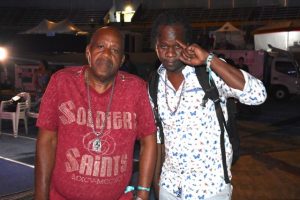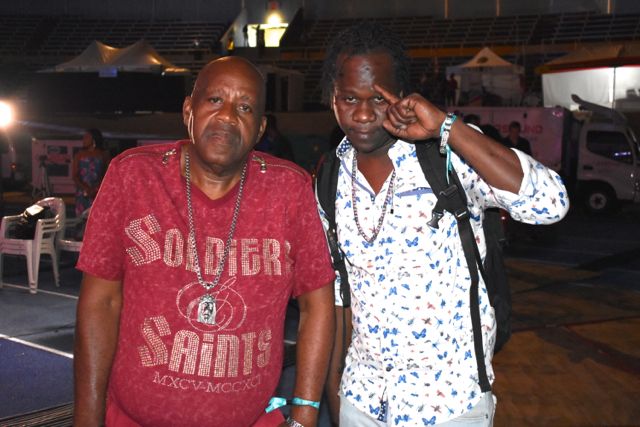 "Big Belly Sky Juice" (at left) – legendary selector from Jamaica's Famous Metro Media soundsystem