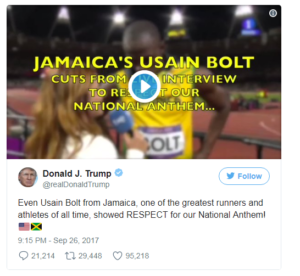 President Trump has now dragged eight-time Jamaican Olympic gold medalist Usain Bolt in the US debate about their national anthem in his latest tweet on the issue. He uploaded a 5-year old video footage of Usain Bolt from the 2012 Games in London to his Twitter account and wrote: "Even Usain Bolt from Jamaica, one of the greatest runners and athletes of all time, showed RESPECT for our National Anthem!"
Even Usain Bolt from Jamaica, one of the greatest runners and athletes of all time, showed RESPECT for our National Anthem! 🇺🇸🇯🇲 pic.twitter.com/zkenuAP9RS

— Donald J. Trump (@realDonaldTrump) September 27, 2017
During a TV interview in 2012 in London, Bolt asks the interviewer to pause for a moment as the American national anthem was being played over the Public Address systems in the stadium.
This tweet comes after Trump made a statement about the anthem at an Alabama rally last Friday, "Wouldn't you love to see one of these NFL owners, when somebody disrespects our flag, to say, 'Get that son of a bitch off the field right now, out, he's fired. He's fired',".
Colin Kaepernick, the former San Francisco 49ers quarterback was the first NFL player to kneel during the anthem last year, protesting the social inequality and treatment of blacks across the USA.
Trump on Tuesday urged NFL to create a ban on kneeling. "The NFL has all sorts of rules and regulations," he tweeted. "The only way out for them is to set a rule that you can't kneel during our National Anthem!"
Usain Bolt has yet to comment on the tweet. Jamaicans on Twitter have responded with some calling for him to not drag Usain Bolt into this issue. Below are some of the responses by Jamaicans on twitter:
Racist white America, how you treat and kill black men in America, you could not do in Jamaica. Leave # UsainBolt out your mouth – ‏ @JoleneR8
For the love of God stop talking and don't bring my country and countryman in this whole debacle – @OriginalYrdiii
Let me just speak for all Jamaicans on this one: Please keep Jamaica and our national heroes out of your racist tweets. – @robertmurray
Lawd #Trump done posted #UsainBolt if that wasn't "See some of my best friends are black" idk what was – @ChellzEvette_
To rass! Trump got the nerve to bring Jamaica/Usain Bolt into this, he just messed up! Gwan go sit one side yuh chat too much – @DarrenDMart
Please leave The Boss out of your politricks. – JamaicaOlympics