An appealing mixture of nutritious breadfruit and blended fruits, this cake is a sweet treat that also brings substantial and traditional Jamaican food values to the table. Fruit Cake (Black Cake) is especially popular amongst Jamaican and Caribbean people during Christmas time.
Ingredients:
8 oz. margarine
1 cup brown sugar
4 eggs
2 tsp vanilla
3 Tablespoon browning
3 cups all-purpose flour
5 tsp baking powder
1 tsp cinnamon
1 cup ripe breadfruit, peeled and mashed/ pureed
1 cup Red Label wine
1 Tablespoon brandy
1 Tablespoon white rum
Blended fruits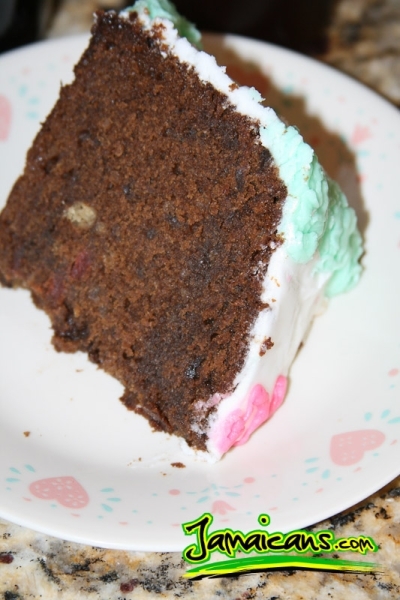 Method:
Preheat oven to 350°F (180°C).
Cream together the butter and sugar in a large bowl.
Add beaten eggs to the mixture.
Add vanilla and browning and mix well.
In another bowl, sift together the flour, baking powder, and cinnamon.
Add the flour mixture, one cup at a time, to the batter, alternating with the cold breadfruit puree and the wine, rum and brandy.
Add blended fruits, then pour the mixture into a greased 10-inch cake tin.
Bake until done. (A toothpick inserted into the cake will come out clean when it is done).
Icing is optional.