In a special anniversary celebration, Nemard "Derron" Wilson and his wife, Janel Johnson, owners of Lil Jamaica in Green Bay, Wisconsin, marked three years in business on August 19, 2022, with delicious Jamaican food and live performances by Hale & Hall and Unity the Band.
Wilson and Johnson were challenged by the COVID-19 pandemic, but the unique food-truck-dine-in business was able to continue and has become a signature eatery in the community that stayed true to its goals of being a fun, community-focused environment that serves authentic island cuisine.
Johnson noted that many people came to Lil Jamaica to celebrate their anniversaries during the COVID-19 shut down because they had to cancel anniversary or wedding trips. She said that it was an honor to give these customers the Red Stripe beer, Jamaican food, and reggae music they wanted for their celebrations.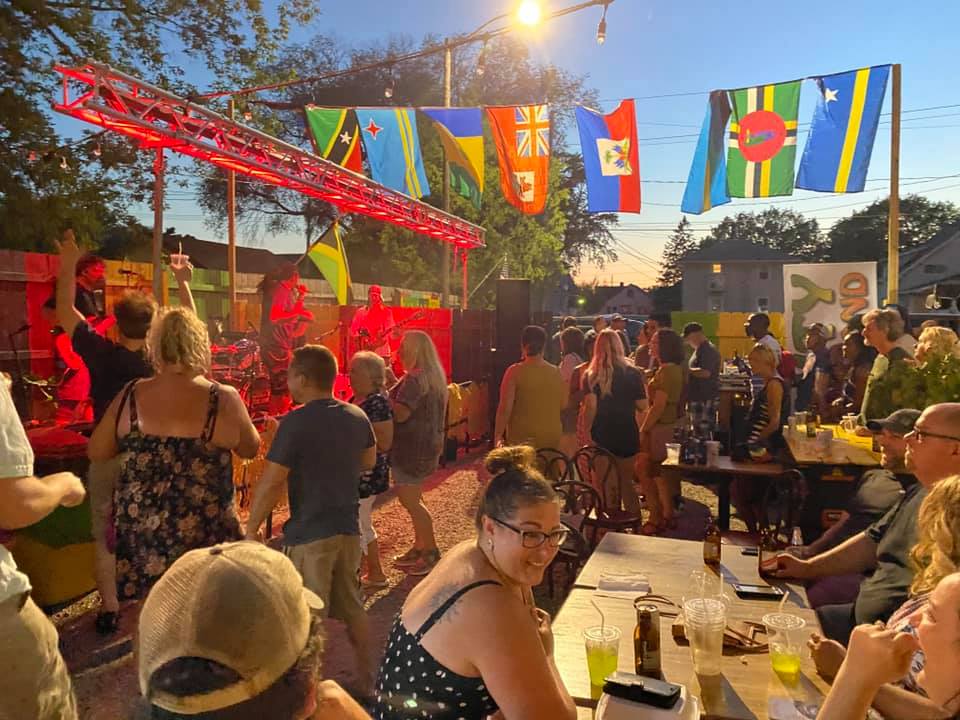 The idea for Lil Jamaica began when Wilson came to the United States from Jamaica. He was making food at a bar that closed at 9 pm, and his friends suggested that he start his own business. Wilson had not found anywhere in the area that really represented Jamaica the way he knew it, so he decided to enter the restaurant business with a food truck. Later, Wilson and Johnson expanded their business to include a dine-in lounge. With Lil Jamaica, they are trying to provide healthy food that gives diners a taste of the real Jamaican culture. The lounge at Lil Jamaica features reggae music and decorations in the Jamaican colors of green, yellow, red, and black. Customer favorites include the eatery's Jerk Chicken and Jerk Pork.
Wilson and Johnson say that it is the community aspect of the business that they love, and both expressed how overwhelming the support for their restaurant from local businesses and customers has been. Johnson said that they love the community and the fact that customers from neighboring communities make trips to town to enjoy their food.
Reviews for Lil Jamaica have noted its laid-back setting, inviting hosts, and great service, with one diner writing, "Excellent authentic Jamaican jerk chicken, amazing beans and rice and mac and cheese…will be back again! Friendly, fun, atmosphere!" and another posting, "This little place is amazing! If you love Jamaican food and a great vibe, this is the place. The owners are so kind and friendly, ready to give you options for your meal and suggest drinks." One Lil Jamaica fan was thrilled with the owners, "Darren and Janelle..hope I'm spelling their names right, are 2 of the most nicest and friendly people. The food and drinks were soooo good! My fiance and I had such blast talking and laughing with them tonight. If you're looking for some awesome food that's not the same old boring stuff everyone else has, you HAVE to eat here!"
https://www.wearegreenbay.com/news/local-news/as-i-always-say-the-people-here-are-warm-lil-jamaica-celebrates-3-years-in-green-bay/