Jamaican Americans Sheryl Lee Ralph, an Emmy Award winner and star of "Abbot Elementary," and  Kerry Washington, known for her role as "Olivia Pope" in the television series, "Scandal," have been chosen to receive stars on the Hollywood Walk of Fame. They are among a group of honorees selected from hundreds of nominations at a meeting of the Walk of Fame Selection Panel on June 16, 2023. The selections were later validated by the board of directors of the Hollywood Chamber of Commerce on June 21, 2023.
Ralph's Path to Stardom
Sheryl Lee Ralph was born in Waterbury, Connecticut, to college professor Stanley Ralph and Icy Ralph, a Jamaican fashion designer who created the Kariba suit. According to a DNA analysis, Ralph's heritage includes the Tikar people of Cameroon. Raised in Mandeville, Jamaica, and Long Island, New York, she attended Uniondale High School in Uniondale, New York. Ralph played the role of "Ado Annie" in her high school's production of "Oklahoma!" and was named Miss Black Teen-Age New York in 1972. At the age of 19, she became the youngest woman to graduate from Rutgers University and was one of the university's first winners of the Irene Ryan Acting Scholarship presented by the Kennedy Center American College Theater Festival.
In the same year, Ralph was listed as one of the Top 10 college women in America by Glamour magazine. While she had intended to study medicine, working with cadavers in a pre-med class caused her to change her mind and pursue a career in the performing arts. Her screen debut was in the 1977 film, "A Piece of the Action," and in 1991, she won the Independent Spirit Award for Best Supporting Female for her appearance in the film "To Sleep with Anger."  Ralph has often been recognized for her work as an actress and singer, winning praise and a Tony Award nomination for her performance as "Deena Jones" in Broadway's "Dreamgirls" in 1981. She released her only studio album, "Evening," in 1984, and the title track reached Number 5 on Billboard's Dance Music/Club Play Singles chart. In 2023, she sang "Lift Every Voice and Sing," a song known as the Black national anthem, at Super Bowl LVII's pre-show. Ralph was inducted into the Delta Sigma Theta sorority in 2004 as an honorary member at the group's 47th national convention in Las Vegas, and in 2008, she received an honorary doctorate of humane letters from Tougaloo College. Ralph gave the commencement address at her alma mater Rutgers University in 2023 and also received an honorary Doctorate of Fine Arts degree from the institution.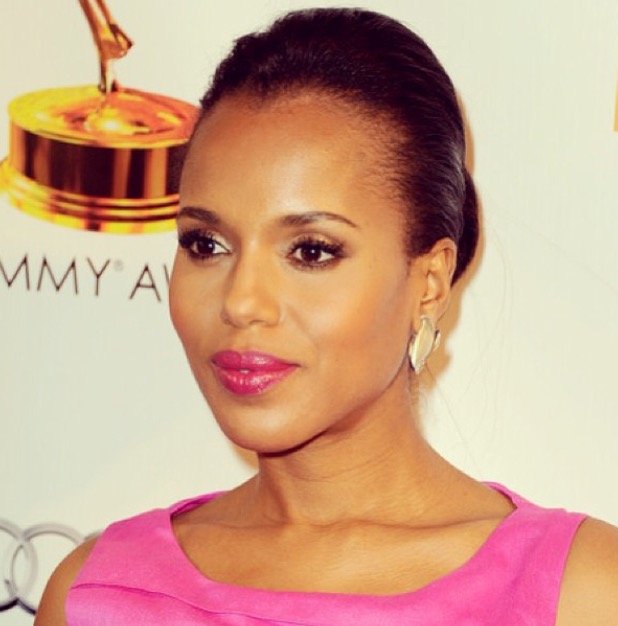 Washington's Walk to Fame
Kerry Marisa Washington, born in the Bronx, New York, in 1977, is proud to claim her Jamaican heritage through her mother Valerie Earl Washington, a professor and educational consultant; her father is a real estate broker. She has described her mother as a descendant of African slaves in Jamaica whose heritage is also partly English, Scottish, and Native American. Through her mother, Kerry is a cousin of former US Secretary of State Colin Powell. As a teenager, Washington performed with the TADA Youth Theater and attended the Spence School in Manhattan. When she was 13, Washington saw Nelson Mandela speak at Yankee Stadium following his release from prison. After graduating high school, she attended George Washington University and graduated from there Phi Beta Kappa in 1998 with a double major in anthropology and sociology. Washington also studied at Michael Howard Studios in New York City.
In addition to her role in "Scandal," she has featured in many major productions, including Spike Lee's film "She Hate Me." Her screen debut was in a television film on ABC's "Magical Make-Over" in 1994. She was a cast member of the PBS television sketch comedy-educational series "Standard Deviants" in 199 and had a recurring role in the television series "Boston Legal." She has served as a spokesperson for the cosmetic brand L'Oreal. Washington was ranked Number 2 on the 100 Most Beautiful People list compiled by People Magazine in 2013 and was named "Woman of the Year" by Glamour Magazine. Additionally, in 2013, Washington was ranked Number 30 on Forbes magazine's list of the highest-paid actors on television.
The same year she was selected to represent Neutrogena skin care products. In 2016, Washington had the lead role in the HBO film, "Confirmation," about the testimony of Anita Hill during the confirmation hearings for Supreme Court Justice Clarence Thomas, a role that earned her a nomination for a Primetime Emmy Award for Outstanding Lead Actress in a Limited Series or Movie and a Critics' Choice Award in the same year. In 2020, Washington served as an executive producer on "The Fight," a documentary film revolving around legal battles lawyers for the ACLU faced during the Trump administration, and was an executive producer on the Hulu miniseries "Little Fires Everywhere." Washington spoke at the Democratic National Convention in 2012 for the re-election of President Barack Obama and uses her celebrity to promote voter registration campaigns. She is a supporter of LGBT rights and a winner of the 2016 GLAAD Vanguard Award, a member of the Creative Coalition, and a member of V-Day, a movement focusing on violence against women and girls. She appeared in a commercial endorsing the presidential bid of Hillary Clinton and emceed the third night of the 2020 Democratic National Convention.
A Historic Walkway
The Walk of Fame consists of over 2,700 five-pointed stars embedded in a 1.3-mile stretch of sidewalk along 15 blocks of Hollywood Boulevard. According to a report from NPO Plog Research, in 2003, the walkway attracts some 10 million visitors a year and has been credited with making tourism the largest industry in LA County. Each star includes the name of the honoree and an inlaid brass emblem indicating the category of their contributions in five categories: motion pictures, broadcast television, audio recording/music, broadcast radio, and theater/live performance. The idea of the Walk of Fame was originally conceived by E. M. Stuart in 1953.
Committee's Work Lauded
According to Ellen K, the selection committee did "an amazing job" in choosing the honorees among that group of talented performers nominated. She added that the committee is eager to see the reaction of each honor as they realize that, with the star on the most famous walkway in the world, they become part of Hollywood history.
Photo – Deposit Photos, Institute of Caribbean Studies