Jamaica's Chris-Ann Witter, a Female Youth Ambassador for the Portland 4-H Clubs, has developed what she is hoping will be a new and organic way to treat acne and provide skin enhancement. Witter, 17, is a student at Port Antonio High School, and by using components of Jamaican breadfruit and salicylic acid, has created the Acne and Collagen Crème. She was a participant in the Jamaica 4-H Clubs Portland Parish Achievement Expo 2023, an event that showcased and awarded students from early childhood to tertiary levels from the parish in a variety of competitions and displays.
Good Read: Hair Growth and Dandruff Prevention Benefits of Jamaican Breadfruit
Phenomenal discovery while experimenting on her skin
Witter got the idea for the acne treatment from her desire to find a natural remedy to treat her own experience with eczema. During a speech given at Portland Parish Achievement Day at the College of Agriculture, Science and Education (CASE), where her products were on display, she shared that she discovered through research that breadfruit promotes the production of collagen and elasticity of the skin. It also creates a lipid layer that provides a glowing effect to the skin.
She noted that breadfruit grows in abundance in Jamaica, but it is not regularly used. By raising recognition of breadfruit as a local, regional, and global crop useful for pharmaceutical and food products, it would benefit the commercial market. The facial cream she developed was given positive feedback the those who sampled it. Witter plans to develop the Acne and Collagen Crème to certifiable standards, which will allow it to enter the local market.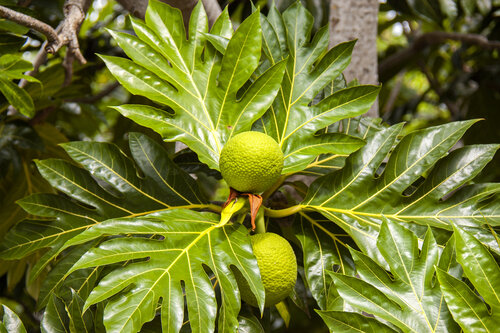 Jamaica's next great agricultural engineer
Witter, who is planning to pursue a career as an agricultural engineer, represents a new generation of individuals who are applying science and innovation to agriculture in order to increase production, enhance resilience, and improve livelihoods. These young people view agriculture as a means to create wealth and a more sustainable future. Agriculture presents considerable opportunities for youth to engage with agriculture to improve national development, she said, noting that young people should become more involved with agriculture and pursue activities related to it as the sector "can be very profitable."
Grow Smart, Eat Smart
Witter supports the "Grow Smart, Eat Smart" campaign of Jamaica's Ministry of Agriculture and Fisheries, and she grows bananas, plantain, peppers, and yams, along with other crops in her home garden. She is also involved with raising animals. She joined the Jamaica 4-H Clubs while in primary school and in her role as Female Youth Ambassador plans to focus on promoting the activities of the organization and remaining an active member.
As April has been designated Farmers Month, Witter wants the stakeholders in the agricultural sector to acknowledge the critical role they play in the lives of all Jamaica's citizens. She wants farmers to realize that it is an honor for them to provide food for the country and to know that the country is depending on them to sustain its citizens.
Photo – Deposit Photos