Every year, Miami Art Week attracts thousands of art patrons, together with artists, celebrities, musicians and art aficionados from across the globe to immerse themselves in the arts.   Known as Art Basel, the 2018 installment of the three-day Art Exhibition took place December 6th—9th in the Miami Beach and Wynwood sections of the city.   Art Basel is an international art fair, staging three shows annually with venues in Basel, Switzerland, Hong Kong, and Miami.  Organized into various sectors, the art fair hosts over 268 galleries from roughly 32 countries, while seeking to showcase contemporary works of art by not only established artists, but also those newly emerging on the arts scene.
Against this backdrop, Art Basel weekend surely got off to a scintillating start from a Caribbean perspective with the December 6th Opening Reception for the 'Let There Be Reggae' art exhibit, which was held at the LAB Miami in Wynwood's Arts District.  This year's exhibit featured:  Ranking Levy & Ellen G from Tel Aviv, Israel;  Maria Hitchins from Dancers of Jamaica; photographer Jik Reuben; and last but foremost the legendary Patricia Chin—VP Records co-founder.  Commonly referred to as "Miss Pat", Patricia Chin grew up in the heart of Jamaica's capital city.   In seeking to spread her beloved culture to the masses while bringing people across the world together, the chosen vehicle was reggae music and culture.   In that spirit, VP Records was created in 1979 by co-founders Patricia, the "P" and Vincent, the "V".  Over the 40 plus years that have passed since then, and VP Records—which began as a small used-record shop in Kingston—grew into a behemoth where the reggae music genre is concerned in being a Grammy winning record label, as well as representing a vital foundational pillar of reggae and culture worldwide.  The VP Records exhibit space included posters, photos, paintings, books, albums and album covers.
Without a doubt, the 2018 'Let There Be Reggae' exhibition at Art Basel Miami offered remarkable insight into the genesis, evolution, and odyssey of reggae music for over four decades.   What's more, reggae's dancehall subgenre was also featured as part of the exhibition courtesy, for example, of Mr. Reuben—whose exhibit was filled with a number of vintage photos of some of the most popular reggae and dancehall acts through the years.  For example, Mr. Reuben's exhibit space displayed photo images of the genre's greats like, Bob Marley, Damian 'Jr. Gong' Marley, Beres Hammond, King Jammy, U-Roy, Maxi Priest, Shabba Ranks, Ninja Man, and Lady Saw—just to name a few.
Of course, it would have been very remiss of an art exhibition on reggae music to not include musical guests.   With that in mind, the December 6th Opening Reception afforded the event's attendees an opportunity to soak up the vibes of reggae and dancehall music by way of a live performance by singer, Christopher Martin, along with tunes jugglin' by the highly acclaimed soundsystem selector of Jamaica's Renaissance Disco – DJ Delano – and also Eccentrix Sound.  Also present on the scene were: David Muir, Jamaican-born photographer; Garfield "Chin" Bourne, founder of Irish and Chin "sound clash promotions"; Pat Meschino, renowned Billboard journalist; and Kamila McDonald, Jamaican fitness personality, TV Host and founder of Kamp Kamila Fitness.  All in all, Miami's 2018 staging of the 'Let There Be Reggae' exhibition was very well attended by a wide variety of people from diverse backgrounds and it certainly accomplished its objective of assembling together a display of the salient aspects of reggae and dancehall music over their decades-long journey.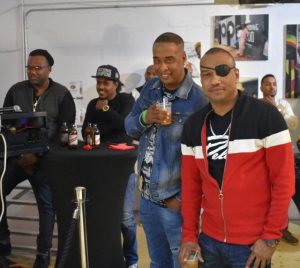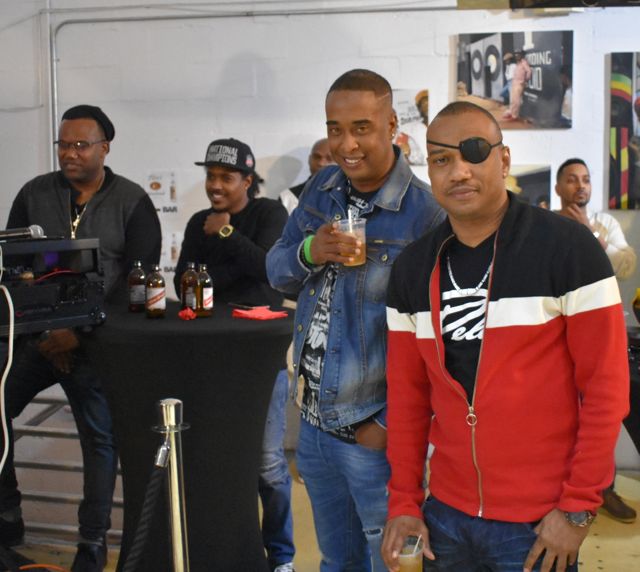 DJ Delano (far right): co-founder, CEO and lead selector of Jamaica's Renaissance Disco
Photos by Nick Ford, who lives and works in South Florida.