Usain Bolt displayed his unique style on the Olympic stage at the 2008 Games in Beijing when he won the gold medal in the 100-meter final, clocking a world-record time for the distance of 9.69 seconds. He crossed the finish line with his arms held wide open to accept the immediate love of track and field fans worldwide for his masterful run. Bolt's win was Jamaica's first gold medal ever in the event and its first medal in the event since 1976.
"Dabbling" in the 100 meters
Before 2008, Bolt was known chiefly for his performance in the 200-meter event. He had set the world's youth record in 2004 and had only "dabbled" in the 100 meters in 2007. While his 10.03 seconds over the distance was impressive, it did not worry those running the distance in 9.9 seconds. However, he convinced his coach to give him a second try at the 100 meters and ran the distance with the second fastest time in history; 9.76 seconds, just 0.02 seconds slower than the world record set by Bolt's countryman, Asafa Powell. When Bolt entered the 100-meters at the Adidas Grand Prix in 2007, he set a new world record of 9.72 seconds.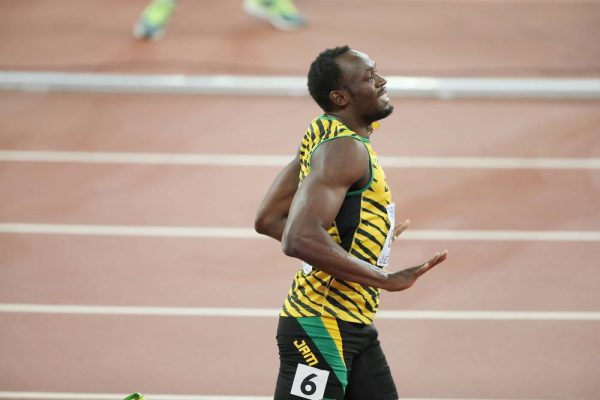 Wrong Body for Sprinting
Just over a year before Bolt broke the 100-meter record, he was not allowed to run the race. At 6'5", Bolt was considered to have the wrong body build for a successful sprinter, most of whom have smaller and more compact frames. It was thought that larger sprinters fail because they can't start fast enough. However, Bolt's win proved contemporary science wrong, as he could create sufficient force using over 30 muscles in both his legs to double the amount of force applied by a normal runner to propel his body in a way that should have been impossible. While he tended to start slow, he was fast enough to be competitive over the first 30 meters and then to dominate in the race's final seconds. The key was his enormous stride length: an average sprinter needs 44 steps to finish a 100-meter race, while Bolt only requires 41 steps.
Bolt's Usual Swagger
Bolt's confident swagger was not a surprising behavior for Bolt who had just become the "world's fastest man." His posing and clowning around, having fun on the track, were appreciated and familiar to Jamaicans, who understood how he was dominating and partying at the same time. This behavior was identified by S.L. Price in Sports Illustrated as combining Jamaica's national traits of aggression and ease. At the 2008 Olympics, Bolt showed he was the king of the 100-meter dash, Jamaica's sport of choice. Prime Minister Andrew Holness was moved to exclaim, "What a mighty people we are!" in celebration of Bolt's 2008 world record.
Bolt's Career Achievements
Usain Bolt is considered the greatest sprinter in history. He holds world records in the 100-meters, 200-meter, and 4×100-meter relays. He is the only sprinter to win the 100-meter and 200-meter titles at three consecutive Olympic Games in 2008, 2012, and 2016. He is the winner of two 4×100-meter relay Olympic gold medals and became a legend when he won a double sprint victory in Beijing in 2008. Bolt is also an 11-time winner of the World Championships and is the most successful male athlete at the competition. He is the first athlete to win four 200-meter World Championship titles. He has won numerous awards, including IAAF World Athlete of the Year, Track & Field Athlete of the Year, was named BBC Overseas Sports Personality of the Year three times, and Laureus World Sportsman of the Year four times. Bolt was named one of Time magazine's 100 Most Influential People of 2016. He retired from competitive track and field after the 2017 World Championships.
Now let's relive the moment.
Watch Usain Bolt 100m World-record 9.69 Second Sprint at 2008 Beijing Olympics 
Photo –  Eric Webstra on YouTube , Deposit Photos