A statue of Jack Leslie, a pioneering football athlete who would have been the first Black individual to play football for England if he had been allowed to take the field in 1925, was unveiled outside of the stadium of Leslie's former club, the Plymouth Argyles. Hundreds of fans, family members, and former Argyle players attended the unveiling. The 3.7-meter (12 feet) tall statue by sculptor Andy Edwards depicts Leslie with his arms stretched wide in celebration of a goal, creating a powerful symbol of resilience exhibited by diverse players of the past and present.
Leslie, whose father was Jamaican, was the first Black player chosen to play for England, but he was prohibited from playing after football officials discovered he was Black. Leslie played for Plymouth Argyle for 14 years, joining the club in 1921, becoming its captain, and scoring 137 goals in 401 appearances. It would be another 50 years before a Black person was allowed to represent England in football.
Matt Tiller, who led the campaign for a statue to honor Leslie, said it was incredible "to see Jack come home to Plymouth Argyle." At the time Leslie moved from East London to Plymouth in 1921, he was the only Black professional football player in the country. He was selected to play for the England squad but was later denied his place because of his Black heritage.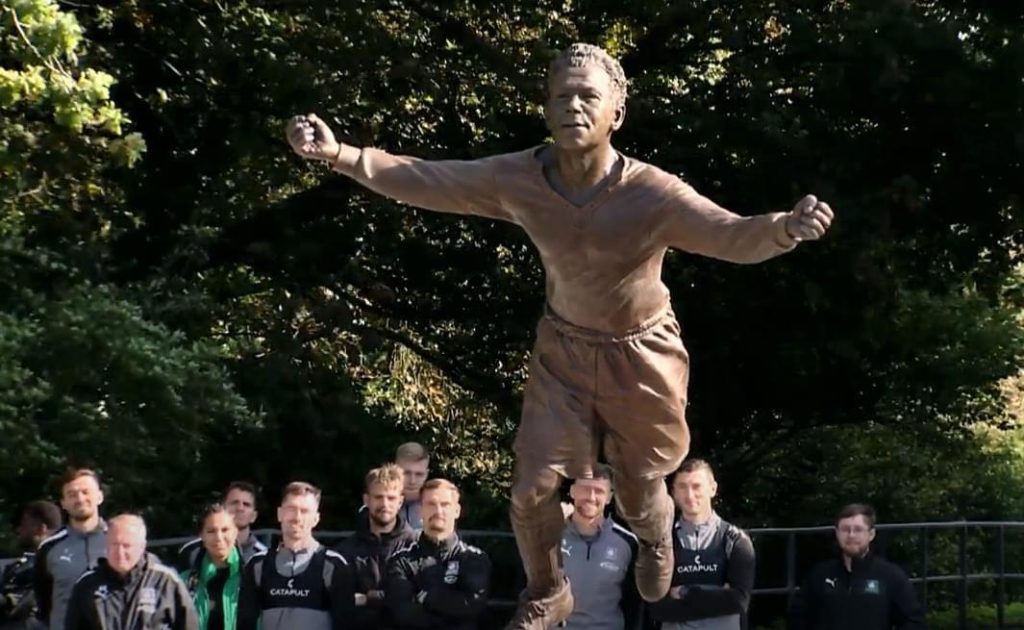 According to his granddaughters, Lyn Davies and Lesley Hiscott who were moved to tears upon seeing the statue, Leslie never expressed any bitterness at being dropped from England's squad. Davies noted that the story of her grandfather's experience is now well-known by the general public. Now, with the unveiling of the statue, everyone will know. She added that her grandfather's passion was football and that he was happy to be paid for doing something he loved. Hiscott said that actually seeing the statue and knowing that Leslie is finally receiving the recognition he deserved is "like a dream" for the family. She also added that Leslie's statue will symbolize the broader issue of racism in the football industry.
Hiscott told an interviewer that Leslie was never given a reason for why he was dropped from the squad as he was playing well, was not injured, and had not been suspended for any reason. The only issue left was the fact he was Black. She hopes that as more people learn of Leslie's story, it will aid in fighting the injustices caused by prejudice and will promote more diversity and equality.
Fans began the campaign to raise funds for a statue honoring Leslie began in 2019 and raised £140,000 for the statue. According to Tiller, it is wonderful for Argyle fans to have the statue of a legendary player outside the club, but the statue represents more than that. The story of his experience with England's call-up and being denied the opportunity to play because of the color of his skin is an important story that needs to be told, he said. The statue is not "just a lump of bronze" but exists to tell the story of Leslie's career and what he had to face.
Former Argyle players Dwight Marshall and Ronnie Mauge attended the unveiling. Mauge noted that Leslie's status as the first Black player to be selected for England is not taught in schools, that it was forgotten history. Calling Leslie a "proper trailblazer," Mauge said there was much left to be done to tackle racism both inside and outside of the game of football. Debbie Hewitt, Football Association chair, called Leslie a " true football legend" and stated that he will be awarded a posthumous honorary cap from the Association in recognition of his unique contributions and "to right the historical wrong."
Photo – C & D Electrical