Khem's Jerk Shop in Bedford-Stuyvesant serves a Jamaican sorrel drink made of the dried petals of the roselle plant, a type of hibiscus, and on a hot day, the restaurant's version – with its kick of ginger and sugar sweetness– is refreshing and welcome. So says an article in New York's Village Voice newspaper. For about ten years, Brady, born in Jamaica and a graduate of the French Culinary Institute, has been wowing New Yorkers with his friend and restaurant co-owner Edwin "Brods" Hughes. They started their business preparing food using a barrel smoker outside Stephen Decatur Middle School, and as word spread, the lines got longer, and they expanded to a pop-up restaurant at a local watering hole, Bed-Vyne. The two opened their first actual restaurant in January 2017, and now fans can get some of the best smoky jerk cuisine available.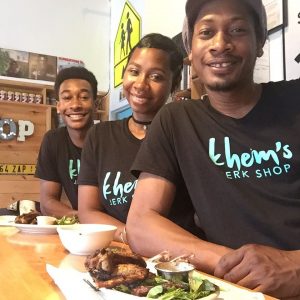 The restaurant is popular with local residents who wait for their meals listening to the music of Jimmy Cliff, Dennis Brown and others who add to the relaxed vibe. Customers can savor sides of plantains, dishes of ital stew – a Rastafari staple that mixes squash, potatoes, chickpeas and turmeric – along with traditional jerk cuisine.
Jerk cooking stems from a tradition that is hundreds of years old and originated with Jamaica's indigenous Taino people and the African slaves brought to the island by the Spanish colonists. Brady's version of jerk "is marvelous," says the reviewer. The serious nature of his jerk chicken is evident from its appearance: "the burnished and blackened exterior supporting riot of coarsely chopped scotch bonnet peppers and chewy crushed allspice berries." Khem's uses pimento logs to fuel its grills, and the slow-cooked result is "poultry perfection."
The jerked chicken is served in a variety of ways: as jacked chicken wings, solo portions, or entire spatchcooked and splayed versions. A family-style meal feeds two to three people very well. Brady also jerks pork and salmon fillets.