Fricassee Chicken is a traditional Jamaican dish that has roots in Africa and Europe. It is a favourite by Jamaicans because of the "gravy". It is also called Brown Stew Chicken.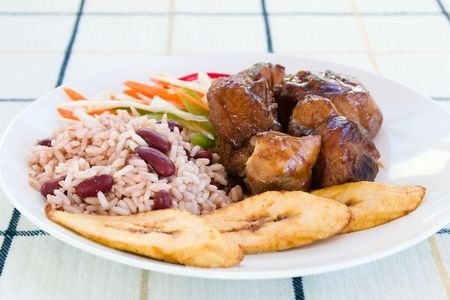 INGREDIENTS :
3 lbs Chicken (with bone and skin)
2 Chopped onions (Use one onion to season the chicken. The other will be used later)
3 Stalks of escallion chopped
3 Cloves garlic crushed
2 Teaspoons of chopped thyme
½  Country pepper or black pepper
2 Teaspoon salt to taste
¼ Cup ketchup
2 tablespoon Soy sauce
½  Cup cooking oil
3 Tablespoon brown sugar (use 2 tablespoons for seasoning)
¼ Cup water
METHOD:
Clean chicken. Wash the chicken with lime water or vinegar.
Cut into serving pieces. Dry the pieces with a paper towel.
Season the chicken with one chopped onion, 2 tablespoons brown sugar, thyme, salt, pepper, garlic, and escallion. Marinate the chicken at room temperature for 2 hours or overnight.
Heat the oil in a skillet. Remove seasoning from the chicken pieces and set aside. On high fire, fry the pieces of chicken until golden brown, but not burnt. It should take 2 minutes to get each side of the chicken brown. Remove the chicken pieces from the skillet. Pour off excess oil leaving a small quantity in the skillet or Dutch pot.
 Turn the stove to medium-high. Place browned pieces in the skillet or Dutch pot. Add the marinade/seasoning you set aside along with the water. Let simmer for 5 minutes. Reduce the fire to medium-low then add the rest of the seasoning and ketchup with the rest of the water. Cover and cook slowly until chicken is tender, but not overdone. Be sure there is no pink in the center of the chicken. Stir occasionally. Place the whole scotch bonnet peppers in the pot and simmer. Taste and adjust seasoning as necessary.
Serve the Fricassee chicken with rice & peas (or white rice) and fried plantains.