The Recording Academy is expected to announce on November 10, 2023 the nominees for the 2024 Grammy Awards including those in the Reggae Category. Jamaica's Minister of Culture, Olivia Grange said among the songs submitted to the Academy for review is the 2023 Jamaica Festival Song album. This marks the third year that the festival song album has been considered for Grammy recognition, and is described as a source of pride for Jamaica.
 A Milestone for Jamaican Music
The festival song competition served as a platform for local artists to showcase their talents while celebrating Jamaica's culture. Beyond its role in nurturing musical talent, the festival song has become a reflection of Jamaica's diverse heritage, boundless energy, and strong sense of unity.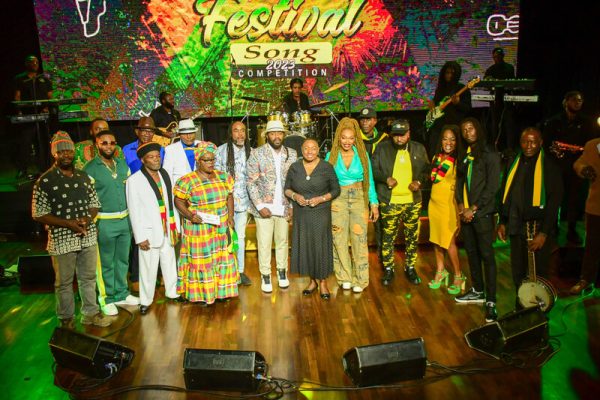 The Road to Grammy Nomination
The 2023 festival song album, titled 'Jamaica Festival Song 2023 Competition,' features tracks performed by finalists in the 2023 competition including the winning song "Best In the World" written and performed by Slashe. The other 2023 finalists featured on the album are Mento Tones, Av&nte, Lady Denna & The Whole Note Mento Band, Hot Rod, Shuga, N-Rich, Princess Black, Prince Fabulous, Eric Donaldson, and Exco Levi. The album, consisting of 11 tracks, is now available for streaming and download on various digital music platforms worldwide, including Apple Music, Amazon Music, Deezer, and Spotify. Minister Grange expressed her optimism about the festival song album's chances, citing the exceptional quality of the songs featured. 
Other Jamaican Songs Submitted for Grammy
Other  submissions in the 'Best Reggae Album' category include Valiant's debut Mixtape 4:14, Pablo YG's Bad Juve Mixtape, Beenie Man's Simma, Charly Black's No Excuses, I-Octane's Dancehall Gift, Byron Messia's No Love, and the compilation Rifle Riddim. This compilation includes nine songs featuring artists such as Dexta Daps (Missing Piece), Shane O (Click Click), Chronic Law (Gun Estate), Govana (Regular Day), Jah Vinci (Beast), RajahWild (Inna Mi Cup), Juggla (Irate), Kiprich (One), and IWaata (Trigger Play).
Photo – JCDC