TasteAtlas, a travel guide for traditional foods, compiled a list of 2023's 100 most popular foods and beverages from the Caribbean, and fully one-fifth of the favorites – 20 of 100 – are Jamaican dishes or beverages. Below are the Jamaican items with their TasteAtlas ranking.
98. Peppered Shrimps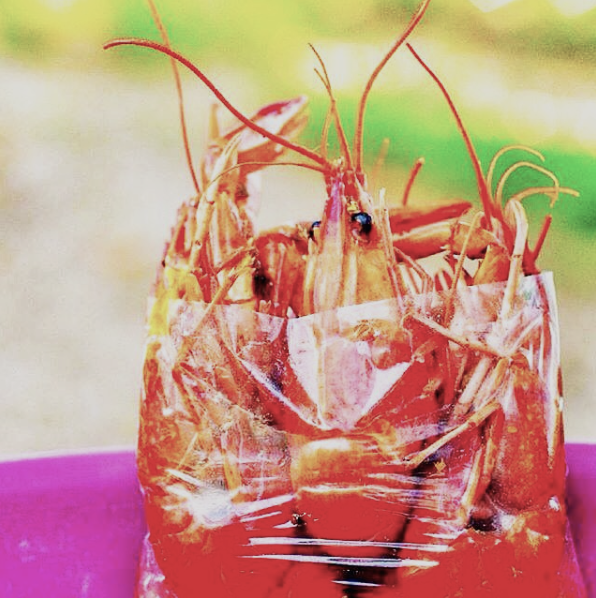 Peppered shrimp is spicy and flavorful and a favorite street food. It is prepared with hot peppers, butter, garlic, and thyme. [Peppered Shrimps Recipe]
96. Brown Stew Fish
This Jamaican treat features marinated and fried fish fillets in a sauce made of onions, garlic, ginger, tomatoes, butter, and water. Usually seasoned with hot peppers and thyme and served with sides of rice and peas or yams and bananas. [Brown Stew Fish Recipe]
95. Escovitch Fish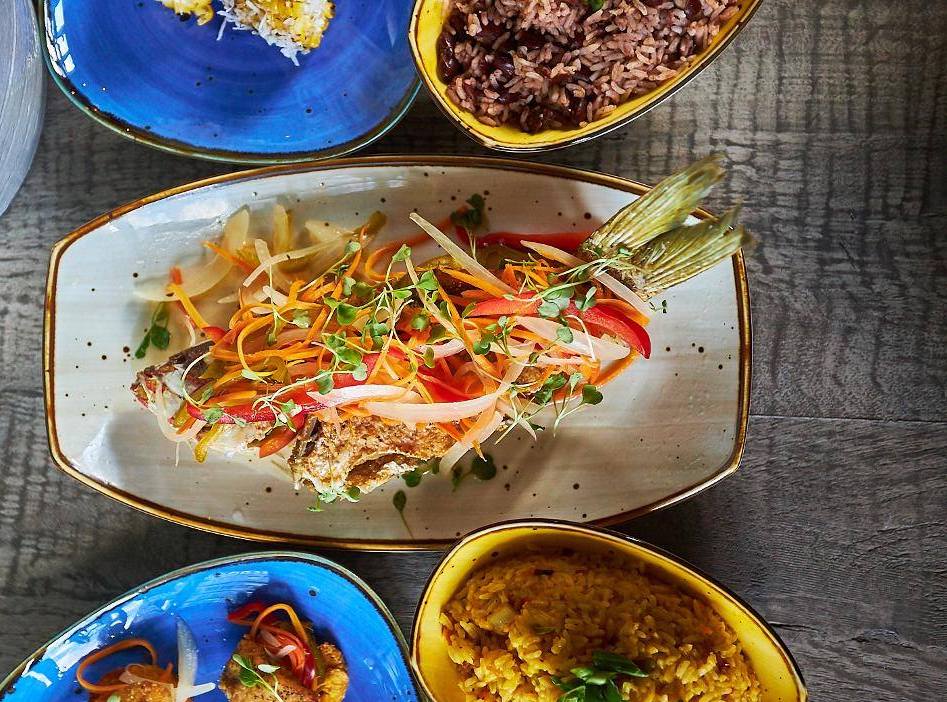 This is a classic fish dish prepared by marinating and then frying fish with a vinegar-based and peppery dressing of bell peppers, carrots, and onions. Any firm-bodied fish is appropriate for this dish, which is a traditional Easter food. [Escovitch Fish Recipe]
93. Run Down
A Jamaican fish stew cooked with coconut milk, onions, garlic, and tomatoes. Cod or mackerel is typically used. The stew is served with rice, dumplings, or boiled plantains. [Run Down Recipe]
90. Coco Bread
A popular bread made from flour, sugar, salt, yeast, butter, and coconut milk, then baked until golden brown. The coconut milk gives it a slightly sweet flavor. The bread is often split and filled with a Jamaican patty to make a uniquely Jamaican sandwich. [Coco Bread Recipe]
87. Gizzada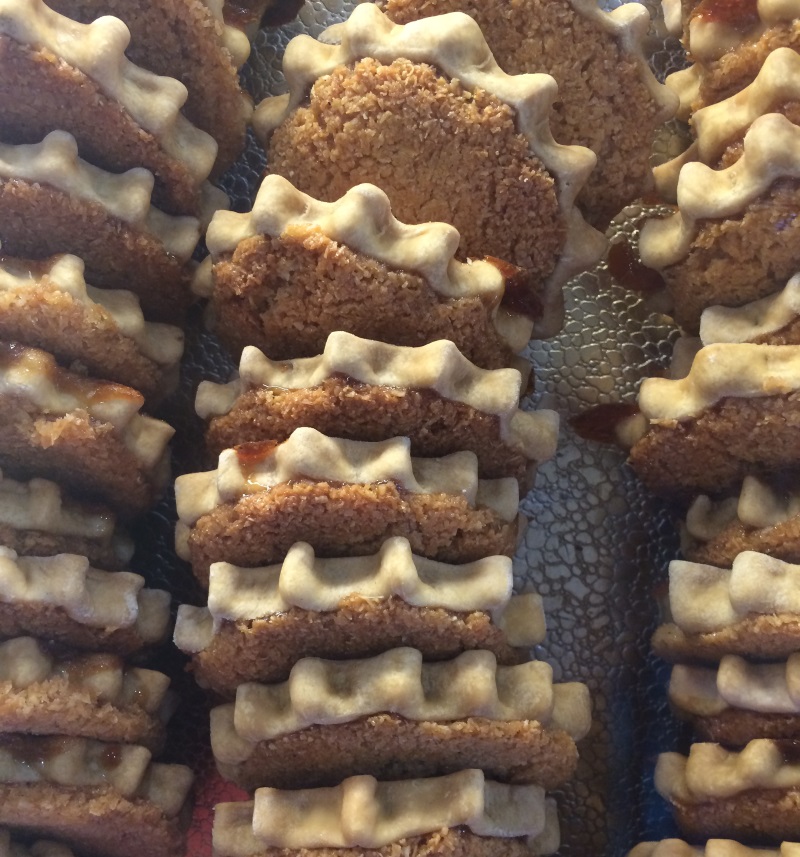 This dessert features a pastry shell that is filled with a sweet and spicy coconut filling. Its unique feature is the crust, which is pinched in a traditional way, giving the dessert its other name of "pinch me." [Gizzada Recipe]
83. Scotch Bonnet Pepper
This hot pepper originated in Jamaica and the Caribbean. The peppers are usually red or yellow and are extremely hot. Their Scoville Heat Unit ranges from 100,000 to 350,000. They are used in hot sauces, jerk seasoning, and chili powder. They get their name from their resemblance to the Scottish Tam O'Shanter.
77. Oxtail with Broad Beans
This is a traditional stew made of chopped oxtail, onions, garlic, ginger, fava beans, chili peppers, and seasonings like allspice, thyme, and black pepper. Well-loved by Jamaicans, it features flavorful and tender meat that falls off the bone. [Oxtail Recipe]
76. Festival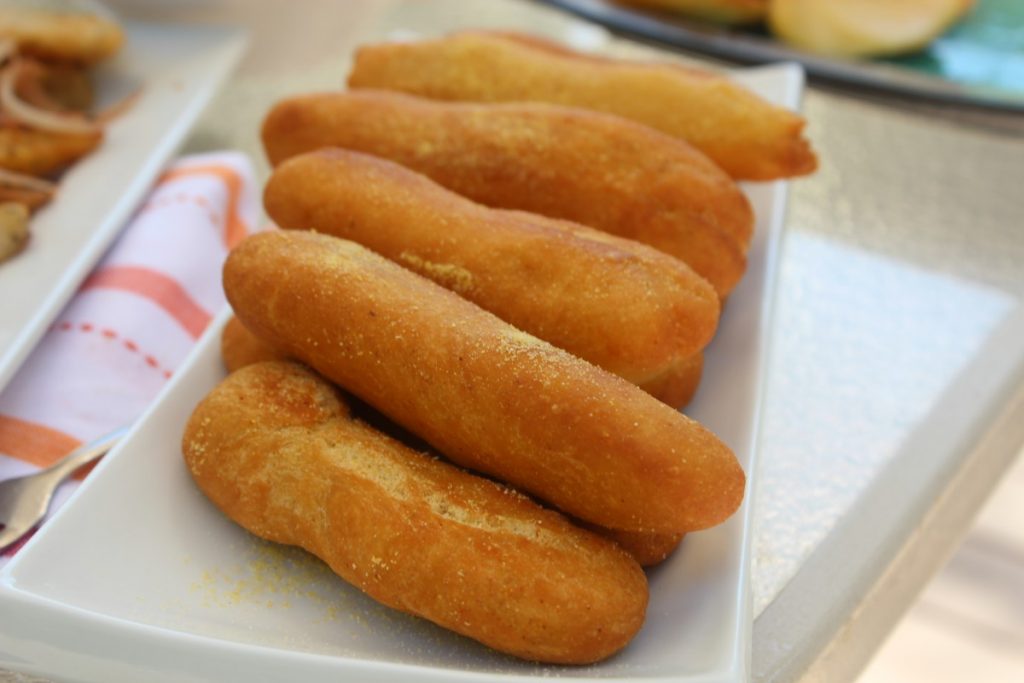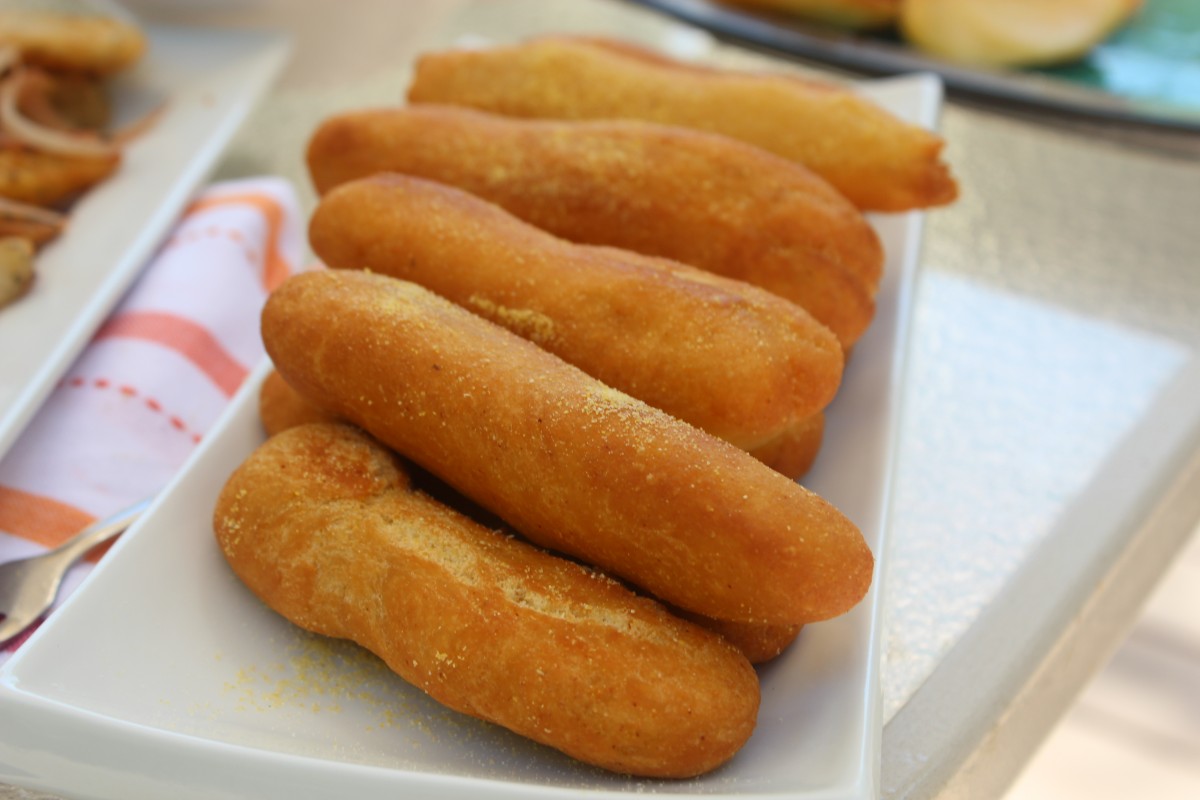 A Jamaican dumpling made with cornmeal and traditionally formed into an oval shape. Its best feature is its crispy exterior, which comes from being fried in hot oil. Usually served with saltfish or mango coleslaw. [Festival Recipe]
70. Ackee and Saltfish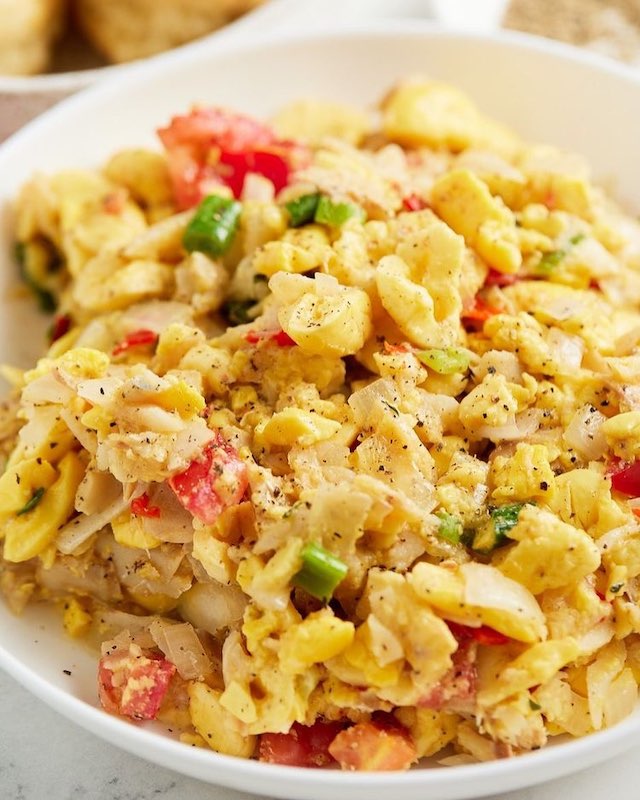 The national dish of Jamaica features the ackee fruit, which originally came from West Africa, and any dried and salted fish. It is popular as a breakfast dish or an appetizer for lunch or dinner. Ackee is not safe to eat until its characteristic three black seeds are visible in the yellow meat. [Ackee and Saltfish Recipe]
68. Hummingbird Cake
Hummingbird cake is made with bananas, pineapple, pecans, and eggs, and flavored with vanilla and cinnamon. It is usually topped with cream cheese frosting. It was originally called Doctor Bird Cake, referring to the nickname Jamaicans have for a hummingbird variety known as the Red-Billed Streamer Tail. [Hummingbird Cake Recipe]
66. Planter's Punch
This popular cocktail is made with dark rum, grenadine, sugar syrup, and fresh orange, pineapple, and lemon juices. The ingredients are then shaken with ice, poured into a large glass, and topped off with Angostura bitters, a pineapple wedge, and a cocktail cherry.
56. Jamaican Steamed Fish
This flavorful dish is also a healthy option prepared by cooking a fish like snapper in a sauce made of butter, tomatoes, and onions, and flavored with thyme, garlic, and black pepper. Scotch bonnet peppers are added for some spice. [Jamaican Steamed Fish Recipe]
51. Stamp and Go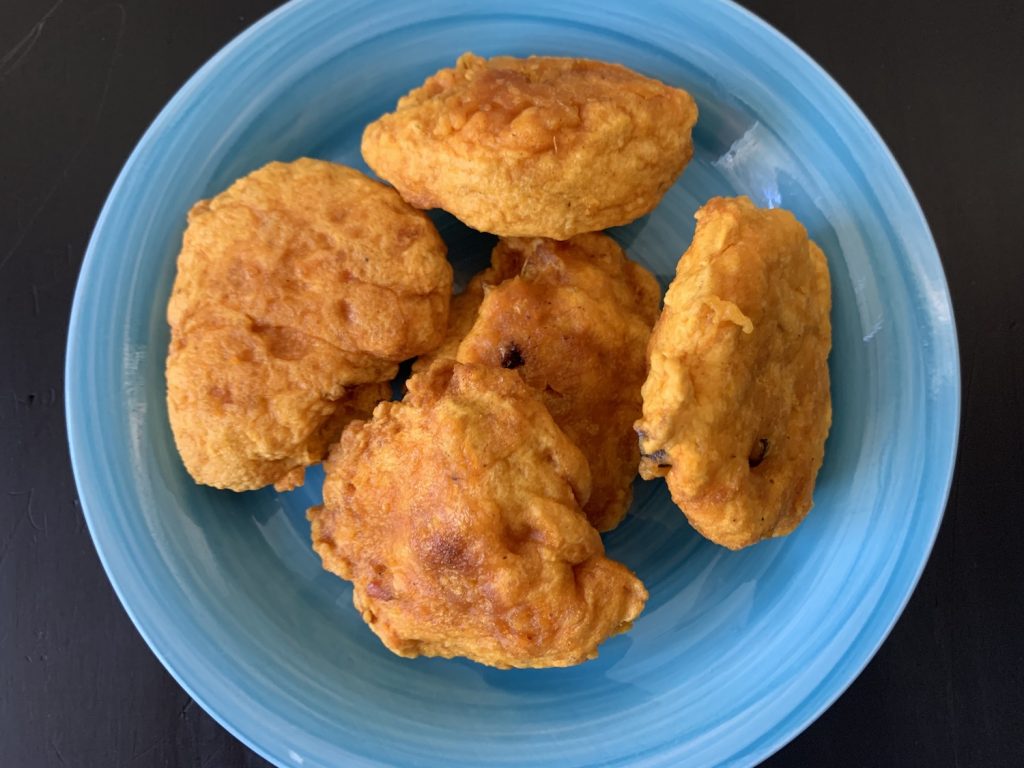 This dish is traditionally an on-the-road snack fritter made with salt cod. It is generally eaten at breakfast of as an appetizer. Usually served with a sweet dipping sauce on the side. [ Stamp and Go Recipe]
39. Fish Tea
Not a tea but a light fish broth made with salt, pepper, and thyme. Different from other Jamaican soups, which are thick and hearty, this broth features small fish like herring combined with bell peppers, carrots, onions, and green bananas. It is believed by some to be an aphrodisiac. [Fish Tea Recipe]
37. Bammy
A traditional flatbread made with cassava and coconut milk, then either fried, baked, or steamed. Originally made by the Arawak people, Jamaica's original inhabitants. [Bammy Recipe]
34. Brown Stew Chicken
A spicy stew of chicken parts browned and simmered in a rich gravy prepared with onions, peppers, ketchup, and water. Traditionally served with rice, peas, fried ripe bananas, and slice tomatoes, garnished with chopped green onions. [Brown Stew Chicken Recipe]
30. Jamaican Blue Mountain Coffee
This unique Jamaican coffee variety is famous for its lack of bitterness. It is grown in the Blue Mountain region of the island and is one of the most costly coffees in the world. More than 80 percent of this coffee is exported to Japan.
21. Jamaican Patty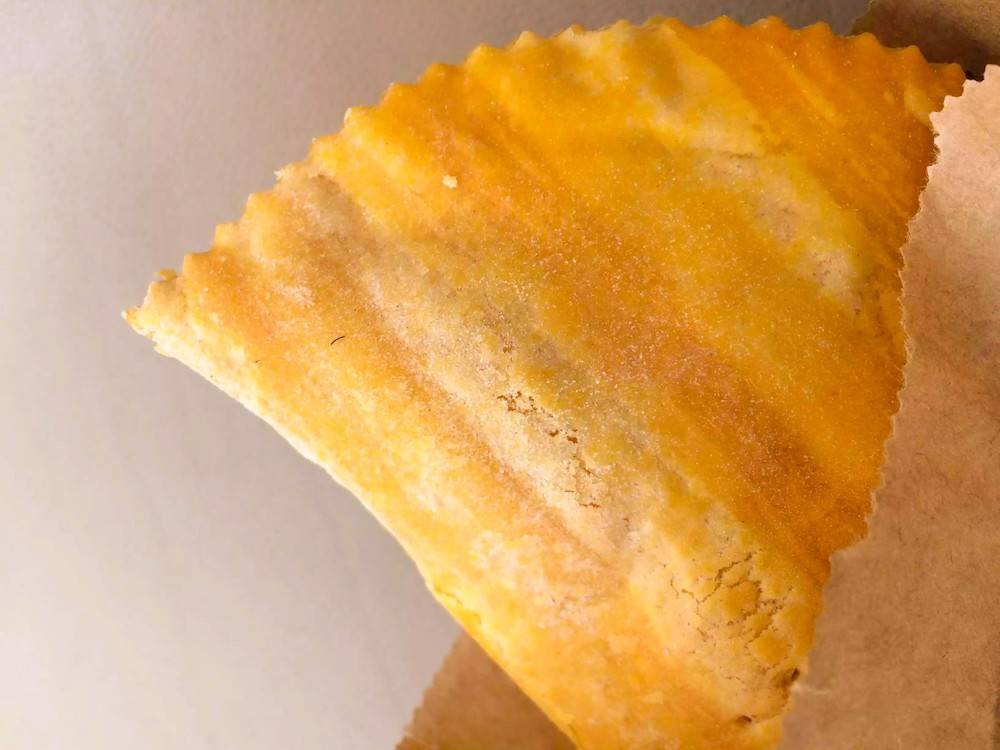 One of the most famous of Jamaica's foods, the patty is popular throughout the world. It is a street food that is also served as a main course. The patties are baked flat and in a half-moon shape and coated with turmeric to give them a bright yellow color. They can be filled with ground beef, and breadcrumbs, and flavored with thyme, onions, garlic, Scotch bonnet peppers, and curry powder. While beef is the traditional filling, patties can also be filled with seafood, pork, chicken, or vegetables. [Patty Recipe]
06. Jamaican Jerk
Another well-known and well-loved Jamaican dish, jerk was traditionally prepared with pork meat grilled slowly over a pimento wood fire. The modern jerk dish is usually made with chicken, pork, or beef. The word "Jerk" refers to a Jamaican method of cooking in which ingredients are cooked over a fire pit or on a grill over an open fire. The key ingredient to authentic jerk is the spicy seasoning made of onions, green onions, thyme, allspice, chilis, salt, nutmeg, and cinnamon, which gives it a combination of spicy, hot, and sweet flavors.
TasteAtlas was founded in 2015 by Matija Babic, a Croatian journalist and entrepreneur. The company views its niche as focusing on traditional dishes and uses reviews from food industry professionals and critics rather than user-generated content.
Photo – Deposit Photos